Prof. Dr. Cyrill P. Rigamonti - Curriculum Vitae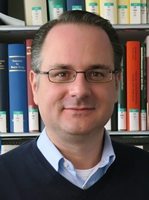 Tenured Professor of Law
Phone: +41 (0)31 631 55 93 (direct line)
Phone: +41 (0)31 631 89 72 (receptionist)
E-Mail: cyrill.rigamonti@iwr.unibe.ch
Professor Cyrill Rigamonti is a tenured professor at the University of Bern, where he teaches intellectual property law, antitrust/competition law, and media law and also serves as a Director of the Institute for Economic Law and as Chair of the Department for Economic Law. He is the founder of the Center for the Law of Innovation and Competition (CLIC).
Professor Rigamonti is a graduate of Harvard Law School (S.J.D.), Georgetown University Law Center (LL.M.), and the University of Zurich (J.D./Ph.D.) and is admitted to practice in New York and Zurich. He also earned a habilitation from the University of Bern. Prior to joining the University of Bern faculty, he practiced general commercial and intellectual property law in Zurich and completed legal internships at the U.S. Court of Appeals for the Federal Circuit and in the intellectual property section of a major law firm in Washington, D.C.
Professor Rigamonti's work has been published in the Harvard International Law Journal and the American Journal of Comparative Law, as well as in leading European IP journals, and he was the first legal scholar to be awarded the Prix Jubilé from the Swiss Academy of Humanities and Social Sciences. His writing has also earned him the Mancini and Addison Brown prizes from Harvard Law School.
In 2015, Prof. Rigamonti was elected by the Swiss Federal Council as an independent member of the Federal Arbitral Commission on Copyright and Neighboring Rights and became Vice President of the Commission as of 2020. He was also selected for inclusion on the list of arbitrators developed by the U.S. Department of Commerce and the Swiss Federal Administration as part of the Swiss-U.S. Privacy Shield Framework Binding Arbitration Program in 2018.
Professor Rigamonti also serves on the Editorial Board of the leading Swiss intellectual property law journal (Zeitschrift für Immaterialgüter-, Informations- und Wettbewerbsrecht - "sic!"), as a peer reviewer for the International Review of Intellectual Property and Competition Law (IIC) of the Max-Planck-Institute in Munich, as a National Correspondent for the Journal of Intellectual Property, Information Technology and E-Commerce Law (JIPITEC), as a co-editor of the academic book series SMI (Swiss Media and Intellectual Property Law), and is also a member of the Board of the Swiss Forum for Communications Law (SF-FS). In addition, he is Vice President of the Board of the Hans Sigrist Foundation at the University of Bern.